Presstek DI34 Full Color Digital Interface Press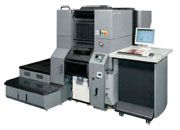 Offset Quality full-color printing is now within reach of even the most frugal budget.
Our flagship press is the most advanced offset printing press in the world. Not only is it economical, but the print quality is astounding. As if that wern't enough, we can produce jobs in record time on this press.
True offset printing for short to medium run jobs at the price and turnaround of digital printing.